Frank Abbey Marine Surveyor & Consultant Inc.
PO Box 729 :: Massapequa Park, N. Y. 11762-0729
516-236-1911 fta102@yahoo.com
Survey Found Fuel System Deficiency
In conducting a survey, of a 2004 35' twin gasoline engine production express cruiser (built in USA), a fuel system deficiency situation, often not immediately visible or obvious, was discovered.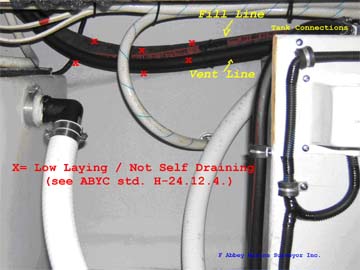 The photograph (of the port fuel tank) shows that the run, of the fill and vent lines rigged to each of the two (installed port & stbd. in the engine space) fuel tanks, are not self-draining. This situation does not comply with the provisions of A.B.Y.C Standard H-24.12.4 " Fuel fill lines shall be self-draining and run as directly as practicable from the deck plate to the fuel tank connection and H-24.13.7 "Tank vent systems shall be self-draining". It always pays, during any survey, to take a second lock at critical systems.
(F. Abbey 1-2011)