Frank Abbey Marine Surveyor & Consultant Inc.
PO Box 729 :: Massapequa Park, N. Y. 11762-0729
516-236-1911 fta102@yahoo.com
Survey Found Raw Water Intake Valve Operational Deficiency
In conducting a survey, of a 1995 30' production express fisherman (built in USA), powered by twin 6 cylinder diesel engines installed new in 2009, a raw water intake valve with a restricted operation situation was encountered.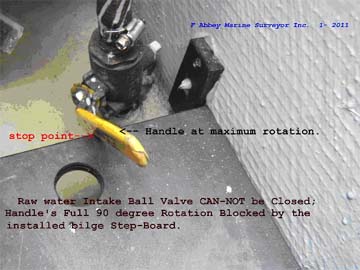 The photograph shows how full operation to close the Raw Water Intake Valve is blocked by the recently installed "bilge step board": The step board needs a cut-out so that the valve handle can be rotated 90° and be closed. Additional issues are: A) single clamped hose (the barb was too short for double clamping). B) bronze valve & through-hull are not bonded.
C) the installed valve is in-line type and not the more preferred type flanged type sea valve.
(F. Abbey 1-2011)