Frank Abbey Marine Surveyor & Consultant Inc.
PO Box 729 :: Massapequa Park, N. Y. 11762-0729
516-236-1911 fta102@yahoo.com
Survey Found Gen-Set Engine Exhaust System Deficiency
In conducting a survey, of a 1988 35' single diesel engine powered doweneast fisherman equipped with an auxiliary gen-set a installed post original construction; the gen-set engine's exhaust was found to have been improperly rigged.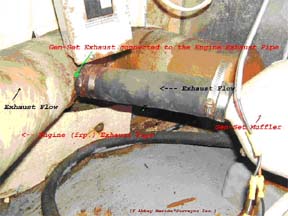 The photograph shows that the gen-set engine's exhaust outlet has been connected via frp. pipe (somehow) attached into the propulsion engine's frp. exhaust pipe. This situation does not comply with the provisions of A.B.Y.C Standard P-1.5.7. "A separate exhaust system and terminus shall be provided for each engine and generator installation; and P-1.5.8. Exhaust system piping and components shall be supported to minimize the risk of failure from vibration, shock, expansion, and contraction." Additional issues are: A) rusted clamp. B) worn hose. C) metal box (w/ AC breakers) chafing against the frp. exhaust pipe. D) wire runs hanging loose / not-supported..
(F. Abbey 1-2011)