Frank Abbey Marine Surveyor & Consultant Inc.
PO Box 729 :: Massapequa Park, N. Y. 11762-0729
516-236-1911 fta102@yahoo.com
Survey Found Deficiencies of an Auxiliary Fuel Tank System
In conducting a survey, of a 1995 twin gasoline engine production 32' express fisherman (built in USA) an owner installed auxiliary fuel tank was encountered that upon review was found to present significant deficient & hazardous situations.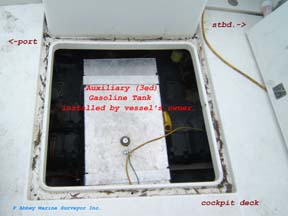 The installation of this auxiliary gasoline fuel tank at first look (through the opened deck hatch) appeared crude but possibly benign: However stepping into the hatch down into the bilge revealed significant issues, with the installation of this auxiliary gasoline tank and the later found fuel transfer system, that are not in compliance with; The Code of Federal Regulations (33 CFR, Subpart J, Sections 183.501 -183.590.) as follows:
1) The rectangular tank, of welded aluminum did not display the required label denoting the tank's:
A) Manufacturer. B) Month, lot number & year of manufacture. C) Capacity. D) Material specifications & thickness.
E) Fuel for which tank is suitable. F) Maximum test pressure. G) Model designation. H) Statement "tank tested under Title 33 CFR Sec. 183.510(a).
2) Vent Line: A) Hose run, as rigged has a deep low-laying loop before its connection to the tank; the vent line should run from the vent to the tank so to be self-draining (i.e. no low lying loop).
B) Hose run is not one piece; there is a sleeved connection apx.8" from the tank connection.
3) Fill Line; as sighted, runs / hangs loose / unsupported from the fill fitting to the tank: A) Install non chaffing hose supports. "Hose shall be secured & routed so that they will not chafe on boat structure & equipment.
B) Re-route the hose run. "Fill line shall be routed to be self draining".
4) A 12v DC powered pump, mechanical flow meter & distribution manifold are installed in an frp. bin that is under the cockpit's fwd. stbd. seat. [The pump, as reported by the vessel owner, is used to transfer gasoline to & from the vessel's port & stbd. (original equipment) fuel tanks. It could not explained as to why the fuel system now requires a transfer pump system as the original 2-tank system did not require it.]
A) The transfer pump is not labeled as an "Ignition Protected" device.
B) No label (sighted on the pump) stating that the pump is approved for use with gasoline.
C) The pump, distribution valve manifold and mechanical flow meter are not secured in place.
System situations such as this are best summarized with a statement such as: Until it can be proved that; the installed tank & its fill-feed-vent lines and transfer pump system are in compliance with all applicable CFRs; the system should be decommissioned and not placed in service.