The elbow caused the fire
Brief History: This situation involves an eleven year old vessel powered by a twin diesels. The engines had approximately twelve hundred hours of operation logged. There was an engine room fire just a few miles from port. The fire extinguished itself because the hatch to the engine compartment was kept closed. Luckily the natural ventilation to the engine compartment was minimal and not sufficient to support any more than the initial blaze. When the operator noticed smoke emanating from the hatch he shut down both engines and called for a tow.
The operator was told by the seller that the parts in question, "the exhaust elbows", had been replaced just a few years earlier. While we do not have a photo of the "before the fire" elbow, we did clean the soot off the elbow and it is pictured at the bottom this page attached to the turbo. The red arrow indicates the location of the material failure. From the outside view It looks pretty good, so it probably appeared in very good condition before the fire.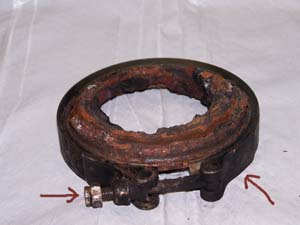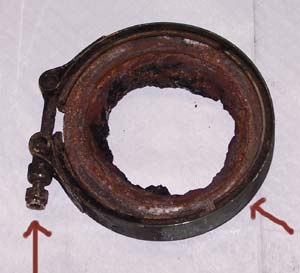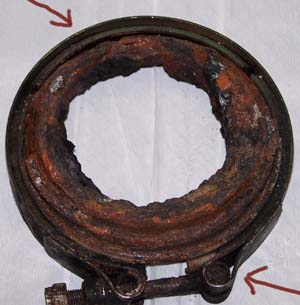 The three photos above indicate severe oxidation (rusting) of the cast iron element that failed, (it broke off from the exhaust elbow), allowing extremely hot exhaust gasses to escape into the engine compartment and cause the fire. The rusted cast iron was not noticed by the owner, who did his own maintenance, because it was hidden by the stainless clamp used to secure the elbow to the turbo component.
The three photos below are of the elbow which when new was an integral part of the ring in the photos above. The red arrows indicate areas of complete oxidation. The red arrow in the center photo indicates complete loss of the inner liner of the water jacket. The photo, below right, shows an area that was covered by the rubber exhaust hose. This area is also completely oxidized, and could not be inspected because the exhaust hose covered it.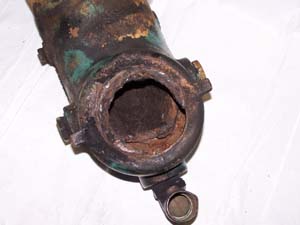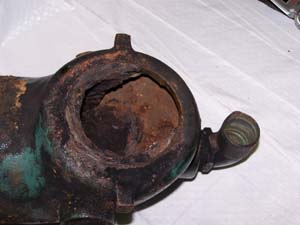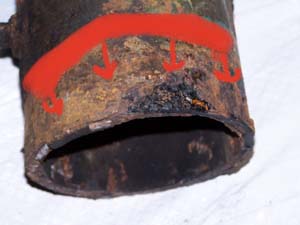 The photo (below left) shows the two components that were joined by the stainless clamp and rusted iron in the first photos as they might have been seen before the fire. The red arrow indicates the placement of the stainless clamp that hid the rusted cast iron joint that broke free.
The material pictured (below right) is rusted iron scale. It is the remnants of the water jacket of the elbow.